HOW TO IMPROVE ENGLISH BY READING
Do you prefer to learn English by reading short articles that you can pick up and put down on the go, or do you like long weaving plots that unfold over time, or do you only have time to read things for your studies or work? Here we'll look at lots of different ways on how to improve English by reading.
Reading is a very effective way to learn English as it helps improve your grammar, extends your vocabulary, offers unlimited examples of language use and all whilst hopefully also being enjoyable. 
TOP TIPS ON HOW TO IMPROVE ENGLISH BY READING
Choose reading material that you enjoy and are interested in so that you're excited to come back to it regularly.
Make a habit of reading every day if you can – the more effort you put in, the more you'll get out.
Choose material that is a little bit challenging, so that you'll be stretched and will improve.
Look up new words and make a note of them, then try to use new vocabulary to reinforce your learning.
Whenever you can, read out loud as it will help you develop your language skills in other ways, such as your accent and confidence.
RESOURCES TO IMPORVE ENGLISH BY READING
Over 1 million ebooks available to borrow to read online. Their aim is to have every book ever published available through the library.
The first ever eBook collection, it now has over 60,000 titles. The focus is on books that have become available through public domain, meaning copyright has expired as they are over 75 years old.
Educational (free) and business ebooks.
Magazines
Reading Based English Learning Program
LingQ is a system developed by a polyglot who speaks 17 languages. The system is based on the same principles by which children learn language – through immersion, in context and with repetition.
It uses reading as the main delivery method. You select a text lesson from the Lingq database, which will also have an accompanying audio, and you read and listen to the lesson.
At first, all the text will be highlighted in blue. As you work through it, you can click on words you don't know, to get a definition and add them to your wordbank to practice later.
Words that you click on turn yellow, words you don't click on tell the program that you know those words already so next time you see them in another passage they will not be highlighted.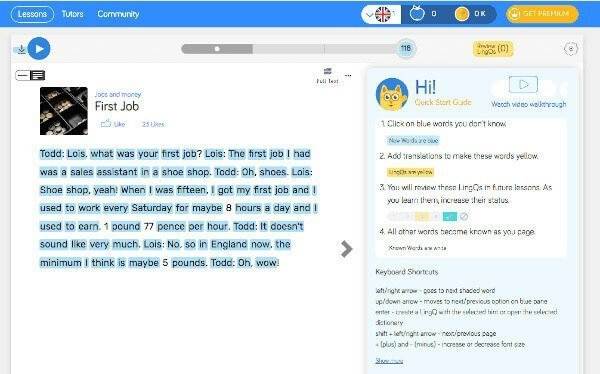 The aim is to remove all blue and yellow highlighting from all texts. You can upload any text that interests you from the internet into a lesson (although without audio) and the program also offers learning support through flashcards, exercises, games, video chat for conversation practice and an active support forum.
A full review on the best websites for learning English
RELATED TOPICS