Learning English shouldn't be all boring grammar exercises and vocabulary lists.
More fun and more entertaining is to use films to learn English – you can make good progress and enjoy yourself at the same time!
There's the obvious bonus that when you're watching films to learn English, if you don't understand the language exactly, the action or delivery may give clues, and you can turn on subtitles on many services like Netflix.
Through watching films to learn English you'll also be exposed to different regional accents, of which there are many in Britain, and experience the living language as it's used in everyday speech.
Your ear can become more quickly attuned to British English sounds when you use films to learn English, which will help perfect your accent.
And you'll get a broader look into British life, culture, values, customs and lifestyles by watching British films to learn English, and see different parts of the country.
There are so many great British films to choose from that it's been tough making a shortlist. We've included from musicals to horror, from old black and whites to present day releases; a range of the best films for learning English, and hopefully something for everyone.
BRITISH FILM CLASSIFICATIONS
Universal (U) – suitable for anyone aged 4 years and older
Parental Guidance (PG) – suitable for children over 8 years
12/12A – Children under the age of 12 must be accompanied by an adult at a cinema
15 – Children under the age of 15 must be accompanied by an adult at a cinema
18 – Not suitable for anyone under the age of 18
Below CL signifies Classification
FILM GENRES
action adventure – fast paced, stunts, special effects, good guys/bad guys
comedy – light-hearted, funny, exaggerated characters or situations
crime – criminals, gangsters, murders, often with detective protagonists
drama – real to life characters and situations, may be historical
fantasy – make belief, magical, unreal and exotic characters or situations
historical – based on fact, or mythic or legendary, often with lavish costumes and sets
horror – to scare and frighten, may be psychological, paranormal, occult, for fear
musicals – based around and include music, dance, performance arts
romance – love stories, or more broadly involving affairs of the heart and emotion
science fiction – futuristic, imaginative science & technology, may overlap action, horror
thriller – build tension and create suspense, anticipation, excitement or anxiety
The films below, some of the best British films, are listed in chronological order.
Enjoy!
BRITISH FILMS TO LEARN ENGLISH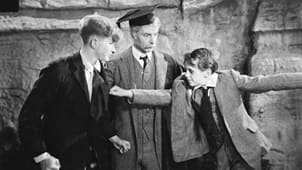 Goodbye, Mr Chips
The ordinary greatness of a school teacher over 50 years, witnessing a changing world. Robert Donat, Greer Garson, Terry Kilburn Drama, Romance CL: U (1939)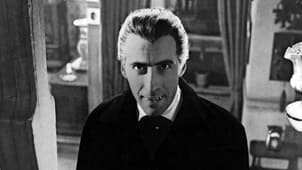 Dracula
A Gothic cult classics from Hammer Studios. Almost comedy now, it was considered horror when released. Christopher Lee, Peter Cushing CL: 12 (originally 15) (1958)
A Hard Day's Night
A day in the life of the British band The Beatles. Liverpool accents. Paul McCartney, John Lennon, Ringo Starr, George Harrison Music, Comedy CL: U (1964)
Mary Poppins
A magical nanny arrives to save the Banks family. An old classic and still a family favourite today. Julie Andrews, Dick Van Dyke Musical, Fantasy CL: U (1964)
The Italian Job
Newly released from prison, Charlie Crocker takes on a new job; a gold heist in Turin, Italy. London Cockney accents. Michael Caine, Noel Coward Crime, Comedy CL: PG (1969)
Gandhi
The life and political ideology of Mahatma Gandhi and the struggles for Indian independence. Ben Kingsley, John Gielgud Biography, History, Drama CL: PG (1982)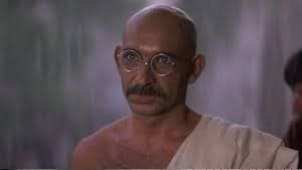 This is Spinal Tap
The film follows one of England's loudest heavy metal bands as they go on tour. Rob Reiner, Michael McKean, Christopher Guest Comedy, Music CL: 15 (1984)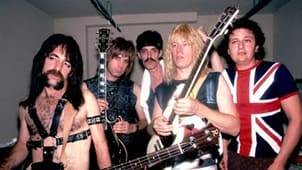 Water
The Governor of Cascara, a British Colony, joins rebels and activists to fight the British government and big business. Various accents. Michael Caine, Leonard Rossiter Comedy CL: 15 (1985)
Withnail & I
Two out of work actors verge on insanity when they decide to go on holiday to the countryside. Richard E. Grant, Paul McGann Comedy, Drama CL: 15 (1987)
Four Weddings & A Funeral
A typically awkward Englishman keeps bumping into the same American woman at social functions. Hugh Grant Romantic Comedy CL: 15 (1994)
Wallace & Gromit: A Close Shave
Wallace falls in love with the wool shop owner and Gromit is framed for sheep-rustling. Animation, Comedy CL: U (1995)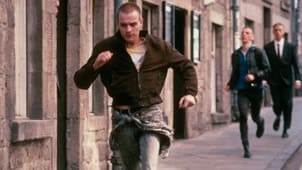 Trainspotting
Renton tries to escape the Edinburgh heroine scene. Scottish accents (and subtitles) Ewan McGregor, Ewen Bremner Drama CL: 18 (1996)
The Full Monty
With no job prospects, six unemployed steel workers decide to become strippers. Yorkshire accents. Robert Carlyle, Mark Addy, Tom Wilkinson, Paul Barber, Hugo Speer Comedy, Drama CL: 15 (1997)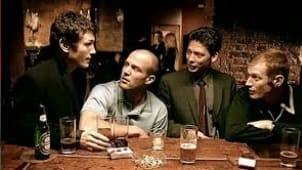 Lock, Stock & Two Smoking Barrels
Four lads decide to steal money from their drug dealer neighbour. London Cockney accents. Jason Flemyng, Dexter Fletcher Comedy, Crime CL: 15 (1998)
Billy Elliot
An 11 year old coal miner's son discovers and falls in love with ballet. Newcastle accents. Jamie Bell, Julie Walters, Gary Lewis Drama, Comedy CL: 15 . (2000)
Bridget Jones's Diary
32, chubby and single, Bridget's love life and professional life are a disaster. Renée Zellweger, Colin Firth, Hugh Grant Romantic Comedy CL: 15 (2001)
The Lion, the Witch & the Wardrobe
Four children find a secret world through the back of a wardrobe. Based on the book by C.S. Lewis. Adventure, Fantasy CL: PG (2005)
The King's Speech
The struggles of the future King George VI to overcome his speech impediment. Colin Firth, Geoffrey Rush, Helena Bonham Carter Biography, Drama CL: 12/12A (2010)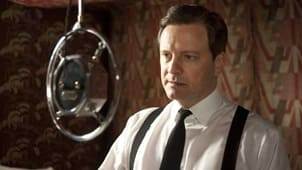 Tinker Tailor Soldier Spy
MI6 agent Smiley comes out of retirement to uncover the Soviet mole in the Agency. Gary Oldman, Colin Firth, John Hurt, Benedict Cumberbatch Thriller CL: 15 (2011)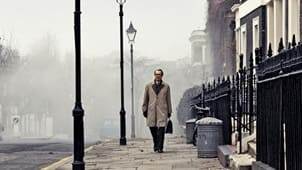 The Theory of Everything
The life of the physicist Stephen Hawking, focusing on his first marriage and the onset of his illness. Eddie Redmayne, Felicity Jones Biography, Romance CL: 12/12A (2014)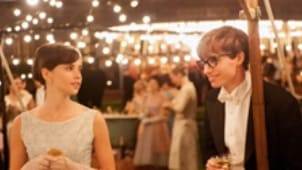 The Imitation Game
The race by the mathematician Alan Turing to break the German Enigma encryption code during World War II. Benedict Cumberbatch, Keira Knightley Biography, Drama CL: 12/12A (2014)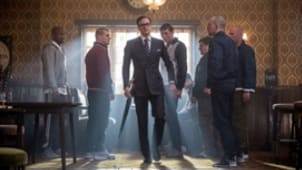 Kingsman: The Secret Service
A British spy organisation fighting global threats. Colin Firth, Taron Egerton, Samuel L. Jackson Action, Adventure, Comedy CL: 15 (2015)
The Lady in the Van
An eccentric homeless woman parks her van in the driveway of the renowned author Alan Bennett for 15 years. Maggie Smith, Alex Jennings Biography, Drama, Comedy CL: 12/12A (2015)
The Foreigner
A Chinese restaurant owner seeks justice when his teenage daughter is blown up by a car bomb in London. Irish accents. Jackie Chan, Katie Leung, Rufus Jones Action, Thriller CL: 15 (2017)
AND FINALLY…
No list of British films would be complete without these two huge successes.
James Bond
Bond is a British Secret Service Agent who fights crazy despots, tyrants and baddies to save the world.
Created by the novelist Ian Flemming in 1953, the first film came out in 1962, and the 26th Bond film is due out in 2020.
Daniel Craig as James Bond
James Bond films
Various actors have played Bond over the years:
Sean Connery 1962-67, 1971, 1983
Dr No, From Russia with Love, Goldfinger, Thunderball, You Only Live Twice, Diamonds Are Forever, Never Say Never Again
George Lazenby 1969
On Her Majesty's Secret Service
Roger Moore 1972-1985
Live and Let Die, Moonraker, A View to a Kill, The Man with the Golden Gun, Octupussy, For Your Eyes Only, The Spy Who Loved me
Timothy Dalton 1986-1994
The Living Daylights, Licence to Kill
Pierce Brosnan 1995-2004
Golden Eye, Tomorrow Never Dies, The World Is Not Enough, Die Another Day
Daniel Craig 2005-present
Casino Royale, Quantum of Solace, Skyfall, Spectre, No Time to Die (due 2020)
Action, Adventure, Thriller CL: PG, 12, 15 (Spectre was trimmed to get a 12 classification, but there were still a lot of complaints about it.)
Harry Potter films
The Harry Potter films tell the story of a young wizard who must fight the evil that killed his parents in order to prevent it from amassing power and returning. Based on books by J.K. Rowling, they were initially intended for children, but quickly gained popularity across all age groups.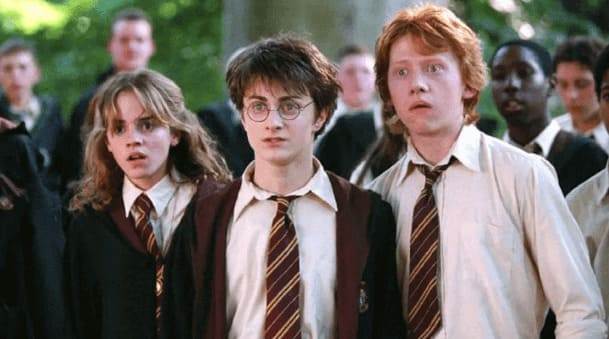 The lead actors in the Harry Potter films – Emma Watson, Daniel Radcliffe, Rupert Grint
Harry Potter and the Philosopher's Stone (2001)
Harry Potter and the Chamber of Secrets (2002)
Harry Potter and the Prisoner of Azkaban (2004)
Harry Potter and the Goblet of Fire (2005)
Harry Potter and the Order of the Phoenix (2007)
Harry Potter and the Half-Blood Prince (2009)
Harry Potter and the Deathly Hallows Part 1 & 2 (2010 & 11)
Most of the main roles have been played by the same actors in all the films, including: Daniel Radcliffe, Rupert Grint, Emma Watson, Maggie Smith, Alan Rickman, Robbie Coltrane, Julie Walters
Fantasy, Adventure   Various accents Classifications: PG or 12
If that's not enough British films, here are another 100!
Films to learn English July 2020