5 Best Websites for Learning English
Why do you need a review of the 5 best websites for learning English? Well, we all know how it goes… you really want to learn English but….. there's not enough time…it's boring doing endless exercises… your memory doesn't want to actually memorise anything. And when you try to talk…… well….. let's not talk about talking. Sound familiar?
Don't worry, all is not lost!
The most important thing is motivation.Are you really serious about learning English?
Do you have a definite goal? A strong reason or desire? If not, you could easily lose focus, and honestly, you're probably wasting your time.
If you do have that drive – great! You've come to the right place! We're here for success.
We've looked at the leading learning programs to find the most effective ones across a variety of learning needs – as you may know, different people learn in different ways. There is no one correct method to learning English, and the perfect method for you is the one that gets you the best results quickest and with the least stress.
So, we've looked at different delivery methods, the learning tools, the top priorities and objectives, as well as considering value for money, to find the absolute 5 best websites for learning English.
5 BEST WEBSITES FOR LEARNING ENGLISH
Lingoda is an online language school available throughout the 24-hour period. You choose and book lessons with pre-defined learning objectives according to your own personal interests and needs.
All teachers are qualified native speakers. A lesson may have 5 students, or you can choose to book 1-to-1 lessons.
The focus of the program is to get learners speaking as much as possible.
Lessons take place on a conference platform called Zoom, a Skype alternative, which is simple enough to set up and master.
A lesson objective may be to practice a particular aspect of grammar or explore a specific subject area. Teachers provide the lesson plan and handout material which you all work on together. There are about 600 lessons to choose from.
And CEFR certificates are available if you need these for your employer or university.
SUMMARY
An excellent way to get affordable, structured lessons with a native speaker. The small groups allow you to learn from each other whilst still getting plenty of individual attention. At times there may only be one or two others in a lesson, giving you more personal attention without additional costs.
With more than 100 million lessons downloaded, this is a proven system for success.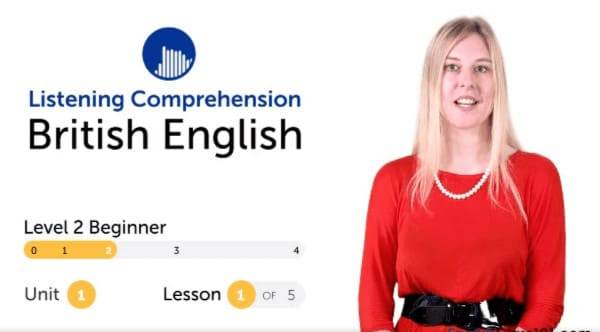 They're so confident you're going to love it there's a 100% money back guarantee.
But even before deciding whether to sign up for full access, there are many resources available to try out for free.
Short, well structured and engaging audio and video lessons, each about 10-12 minutes in length, allow you to fit in regular lessons even with a busy schedule.
Lessons include dialogues, vocabulary and grammar discussions, listening comprehensions, and cultural pointers such as when to use formal language and tipping etiquette.
Flashcards and a word a day email (optional) keep you motivated and progressing. Every month there's a free bonus bundle which includes things like new lessons, study tools, audiobooks, worksheets, eBooks and cheat sheets.
All lessons and materials can be downloaded for use offline, or can be accessed via an app or the website, so everything is easily available anytime on-the-go.
SUMMARY
The short, targeted lessons offer accessible learning for even the busiest of people, and regular concentrated learning has the added benefit of reinforcing uptake. A feast of support material offers variety for all learners, and with everything available whenever and wherever you want it, you have every opportunity to focus your learning.

At its heart, this program centres around flashcards, but there's much more to it than that.
An initial assessment test determines your level (or choose beginner). You're then given a set of flashcards, which you can customise using the extensive database or you can create your own flashcards. Flashcards may contain one word, a phrase or a whole sentence, and each has audio of a native speaker. One great feature is that you can record yourself then listen back, to improve pronunciation.
Much of the program is customisable so you can opt-in to, and only pay for, the parts that are useful for you.
Audio dialogues and videos deliver listening and comprehension practice, with subtitles available in your native or target language, and downloadable transcripts.
You'll also find grammar lessons, pronunciation guides, learning tips, podcast suggestions and the ability to access free ebooks online.
Another great feature is via a Chrome extension which allows you to highlight any word you come across on the internet, get a definition, and add it to your flashcard library.
SUMMARY
This platform offers a wealth of different resources to support your language development. It's a hugely successful learning system that allows you to sign up to different modules at different times, as and when you want them.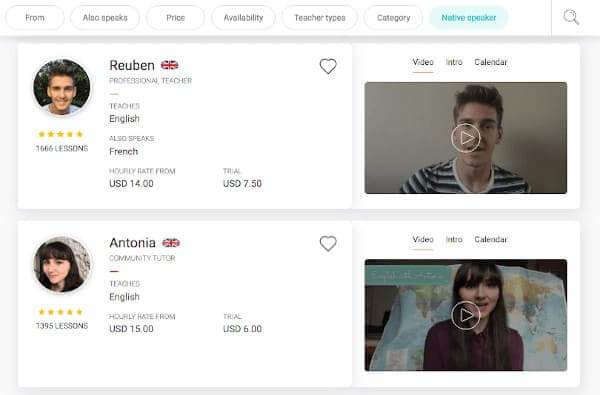 italki is a a site where you can book private online tuition at competitive prices.
Lessons are tailored specifically to your needs – you and your teacher discuss and decide your exact program.
Your teacher will generally provide the learning material, or if you have something you want to work on he/she will more than likely be happy to do so.
When searching for a tutor you can specify the exact time or within a window of a few hours, where the teacher is from, what other languages he/she speaks, or whether you require business English or lessons for a child for example.
Each teacher has a short video introducing themselves which makes the choice much more informed. There's also a personal teacher bio with information like the number of lessons taught on the platform, their star rating and reviews from previous students.
A great feature is that you have a choice between qualified teachers or community teachers. These are people who may not be qualified teachers but are either native speakers or very proficient in the language. This offers an excellent way to get more conversation practice and guidance whilst keeping costs down.
You can also connect with other learners on the platform to practice together, called language partners, and this is completely free.
SUMMARY
The website has a clean, easy to navigate interface and booking lessons couldn't be easier. You are in full control of setting your learning schedule according to your timezone and personal requirements. There's also the added option to keep costs down through community teachers and language partners.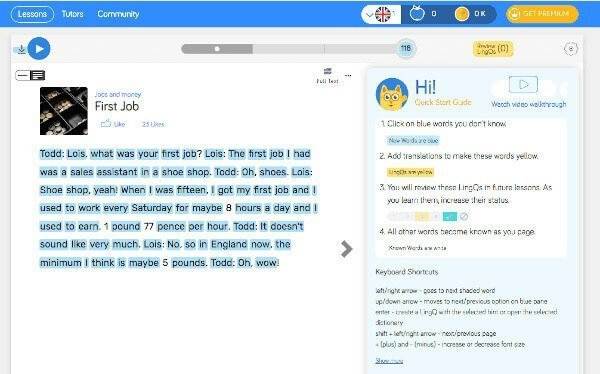 Lingq was founded by a polyglot who speaks 17 languages(!), so you've got to respect that he probably knows a thing or two about it!
The system is based on learning through immersion and in context – much like a child learns to speak, without needing to memorise grammar and structure rules.
At it's core it's based on learning through reading. You select a text from the vast Lingq library, which will also have an accompanying audio, and you read and listen to the lesson.
Initially all the text is highlighted in blue. If you come across a word you don't know, you can click on it to get a definition and add it to your wordbank for later practice. Words you click on turn yellow, words you don't click on indicate to the Lingq program that you know them already, so they will not be highlighted next time you see them. The aim is to remove all blue and yellow highlighting from all texts.
The platform is packed full of many other features, for example video chat for conversation practice which you pay for with points earned on the platform by being a conversation partner in your native tongue to others.
There's the ability to upload any text that interests you from the internet into a lesson (although without audio). There are also exercises, games, flashcards, and a very active support forum.
SUMMARY
This is the perfect platform for you if you enjoy reading, like learning in a natural, practical way and hate memorising rules. You also have the opportunity to make many new like-minded friends and keep learning costs down by getting involved in the community.
CONCLUSION
Looking through this list of the 5 best websites for learning English, you may well feel that you would benefit from several of the programs, or from different programs at different times.
That's easy – they all offer various degrees of fluid opt-ins, so you can commit to exactly what you want when you want it.
And if you know you want to commit to one program over a longer period, then you'll benefit too – from more competitive prices.
RELATED TOPICS