Auxiliary Verbs
Auxiliary verbs are also known as helping verbs because they help to form the different verb tenses and moods in English. The most common auxiliary verbs are:
Examples of the auxiliary verbs being used to form verb tenses.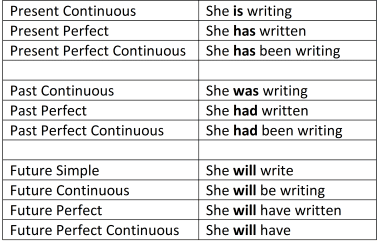 AUXILIARY VERBS & CONTRACTED FORMS
In both spoken and written English auxiliaries are often contracted.
---
TO BE
Present Tense
Past Tense
---
TO HAVE
Present Tense
Past Tense
---
TO DO
Present Tense
Past Tense
---
MODAL VERBS
*only will and would have other contracted forms :
More on Modal Verbs
NOTE ON CONTRACTED VERBS
these contracted forms have two different long forms and meanings:
he's = he is or he has
he'd = he had or he would
RELATED TOPICS