English Learning Books
Depending on what level you're at in English, and what you're trying to achieve at this time, will depend which English learning books will be appropriate for you. We've got you covered here for all different requirements. 
Below are some of the best and most popular English learning books. Many have stood the test of time and have been around for years, with updated editions of course.
We've divided the English learning books into three broad categories
– textbook series covering the full range of learning levels
– books that focus on specific aspects of learning, such as grammar or Business English
– reading books specially designed for second language learners
All Levels
Grammar
Additional Support
Business English
Reading Books
Find out more about each title or series by clicking on the image – many also have a look inside option to explore them further.
---
ALL LEVELS
These series offer books for learning English at all levels from Beginner to Advanced. Besides the course books there are often a number of additional titles in the series intended to offer extra practice and resources, as needed.
Living Language
Based on linguistic science techniques originally developed for the US State Department, this course is a proven and effective system that's helped millions succeed in learning English. Includes 3 books and 9 CDs covering grammar, vocabulary, exercises, dialogues, study tips, culture notes. There are also free online resources, tests and games. Can be used for self-study or with a teacher. Titles are also available designed for Spanish, Japanese and Chinese speakers.
English For Everyone
Designed for self-study, the bright, clear graphics make key concepts easy to understand and learn. Focus is on both vocabulary and grammar. There's a wide range of activities and exercises to reinforce learning. All the essential skills for listening, speaking, reading and writing are covered, and additional material is available online or via an app. Available: Level 1 Beginner, Level 2 Beginner, Level 3 Intermediate, Level 4 Advanced
New Total English
A popular, engaging series with a clean layout that makes lessons easy to absorb. Each lesson focuses on a particular area of grammar. Speaking and listening sections reinforce the lesson. There's a summary reference page for each lesson. Strong focus is on vocabulary with an online vocabulary trainer, as well as other online resources. Available: Starter, Elementary, Pre-Intermediate, Intermediate, Upper intermediate, Advanced
---
GRAMMAR
These are excellent books for learning English as they are comprehensive, have simple explanations and lots of practice exercises.
They are suitable for self-study as well as for use with a teacher, and are probably the best selling English grammar books.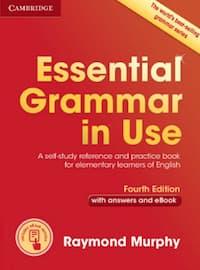 Essential Grammar in Use
A Self-Study Reference and Practice Book for Elementary Learners of English with Answers by Raymond Murphy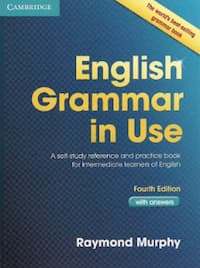 English Grammar in Use
A Self-Study Reference and Practice Book for Intermediate Learners with Answers by Raymond Murphy
Advanced Grammar in Use
A Self-Study Reference and Practice Book for Advanced Learners of English by Martin Hewings
High School Grammar Composition
From the very basics to advanced by Wren & Martin (Separate answer key book.)
---
ADDITIONAL SUPPORT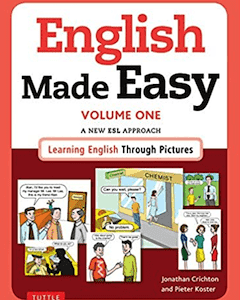 English Made Easy
A fun way for beginners to learn English through illustrations. Topics include family, introductions, shopping, and more.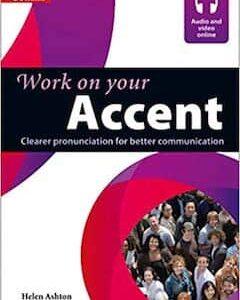 Work on You Accent
Written by professional accent coaches. You'll need a mirror handy to check your mouth positions, as shown in the photos, to create accurate sounds.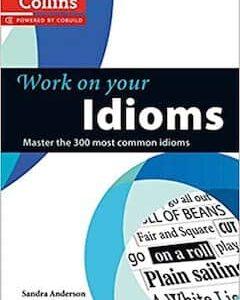 Work on Your Idioms
The most common idioms used in English. Lots of examples and plenty of practice exercises to test your learning. B1 – C2 levels.
High-Level Everyday English
A very popular book for proficient English students to perfect language skills. It focuses on vernacular vocabulary of everyday English.
---
BUSINESS ENGLISH
Market Leader Business English 3rd Edition
This series is considered the gold standard for Business English learners. It is aimed at those already working in business and with a reasonably good level of English. The emphasis is on targeted business-related language skills (rather than general grammar lessons) such as writing reports, presentations, meeting notes, emails.
Each unit covers a business theme such as International Marketing or Customer Service, and introduces relevant professional language and communication skills. Texts from the Financial Times are used and interviews feature business leaders and industry experts.
Business English Builders
This series is for students with limited or no prior professional business experience. Broad business topics are covered and there's also general grammar support too. The books are good for self-study or used with a teacher.
Available: Essential Business Vocabulary Builder, Essential Business Grammar Builder, Business Vocabulary Builder, Business Grammar Builder, Business English Handbook Advanced
---
READING BOOKS
Penguin Readers is a range of books specifically designed for those learning English. There's a wide range of titles to choose from including adapted versions of classics.
The books are available at different levels of difficulty:
Beginner – Starter – Level 2
Elementary – Level 3 – 4
Pre-Intermediate – Level 5 – 6
Some examples include:
STARTER
The Big Bag Mistake
by John Escott
Gisela and Ricardo are on the same flight to Rio de Janeiro. They have identical bags but Gisela's bag is stolen.
LEVEL 1
The Adventures of Tom Sawyer
by Mark Twain
Tom Sawyer does not like school, or study or work. He likes having adventures with his friends.
LEVEL 2
Three Short Stories of Sherlock Holmes
by Arthur Conan Doyle
The famous London detective is called upon by a young woman when her fiance suddenly disappears, and other stories.
LEVEL 3
The Great Gatsby
by F. Scott Fitzgerald
Anybody who is anybody wants to be seen at Gatsby's fabulous parties. But behind the glamour lies mystery and tragedy.
LEVEL 4
1984
by George Orwell
Winston Smith lives in a society where the government controls your every moment. He dreams of freedom away from Big Brother.
LEVEL 5
The Invisible Man
by H G Wells
A stranger arrives in a small village. His head is covered in bandages. The locals are curious but when they discover his terrible secret, they realize that they are in great danger.
LEVEL 6
The Spy Who Came in from the Cold
by John Le Carre
Alec Leamas, a retired British spymaster, is sent to East Germany to spread false information. Will he take revenge on old enemies?