List of Confusing Words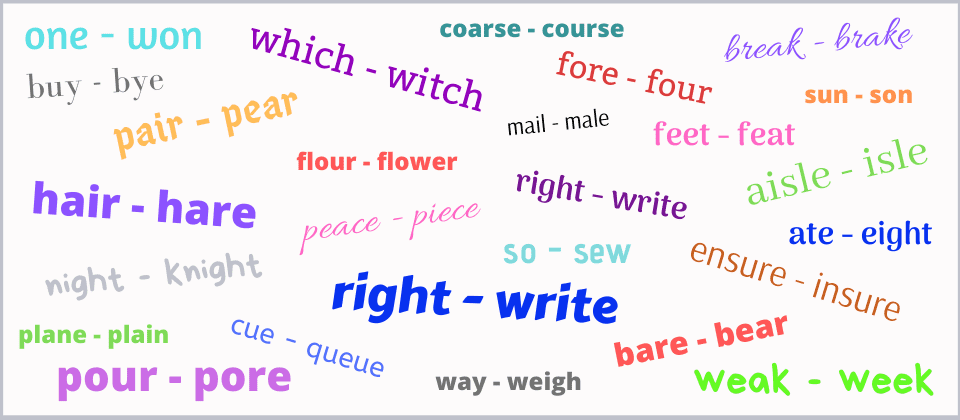 This list of confusing words contains some of the most commonly used words in English which cause the most mistakes. These confusing words fall into three
Same sound – words with the exact same pronunciation but different spelling and meaning
Similar sound – words with similar pronunciation, but different meanings
Similar use – words which are not similar in meaning but are used in similar constructions
1. CONFUSING WORDS – same sound
The first section in this list of confusing words cause confusion for native speakers as well as learners of English. They sound the same, are spelled similarly but have different meanings. They are known as homophones.
ITS & IT'S
its – belonging to it
The cat has hurt its paws.
it's – it is orit has contracted
I can't believe it's Friday already.
THEIR, THEY'RE, THERE
their – belonging to them
They just renovated their house.
they're – they are contracted
I think they're on holiday in Mexico.
there – place, not here
Please put the box over there on the table.
TO, TOO, TWO
to – preposition of direction, infinitive verb form
I've always wanted to go to Paris.
To have imagination is a true gift.
too – also
I liked him too
two – the number 2
She decided to get two rabbits.
WHOSE & WHO'S
whose – possessive pronoun showing belonging
Tom, whose hair was ginger, liked to wear yellow
who's – who is or who has contracted
Who's going to the shop?
WEATHER & WHETHER
weather – atmospheric conditions i.e. outside temperature, wind, rain
British weather is renowned for being changeable.
whether – if
Whether you get promoted or not often depends on your boss.
YOUR & YOU'RE
your – belonging to you
Is this your cat?
you're –you are contracted
Well done! You're the winner!
---
2. CONFUSING WORDS – similar sound
This next part of the list of confusing words contains words that are very similar sounding, and but have different meanings.
ADVISE
advice – noun, a suggestion or opinion
My advice would be to stay in bed if you don't feel well.
advise – verb, to offer a suggestion or opinion
The estate agent advised her that the land was worth a lot.
AFFECT & EFFECT
affect – to influence to cause change, usually a verb
She was badly affected by the news.
effect – the result of the influence, the change, usually a noun
The full effects of global warming are still not known
BOUGHT & BROUGHT
bought – the past tense of the verb to buy
She bought a new sofa for her apartment.
brought – past tense of the verb to bring
He brought the right books with him for the lesson.
DESERT & DESSERT
desert – dry arid place
The red sand dunes in he desert were magnificent.
dessert – the sweet course served at dinner after the main course
My grandma makes the best desserts.
PRISE & PRIZE
prise – to use force to open something
He finally prised the door open after much effort.
prize – a reward for achievement
She won the top prize for science.
PRINCIPLE & PRINCIPAL
principle – rule, guideline, scientific law or theory
The Philippa Parsnip Principle states that if you don't like something that is served at dinner this does not automatically entitle you to have more of another thing.
principal – someone in a position of authority, also headmaster or headmistress
The Principal insists on correct uniforms at all times.
QUITE & QUIET
quite – adverb, largely, to a great degree
That boat journey got quite scary when the storm hit.
quiet – free from noise or activity, tranquil
Remember to keep quiet in the library.
STATIONARY & STATIONERY
stationary – immobile, fixed
The stationary train was waiting for the signals to change.
stationery – office supplies such as paper, envelopes, pens
The stationery shop was having a big sale.
WE'RE & WERE
we're – we are contracted
We're doing our English homework together.
were – past tense of are (to be)
They were living in Italy in 2015.
---
3. CONFUSING WORDS – similarity of use
This final list of confusing words contains those which do not sound or look at all similar but may be used in similar constructions, and this is the reason they cause confusion.
MUCH & MANY
much – with uncountable nouns
How much milk shall I get?
many – with countable nouns
Many people think the monarchy is outdated.
LITTLE, A LITTLE, FEW, A FEW
little + uncountable nouns – not much
may convey a negative idea
There's little chance of him winning the election.
a little + uncountable nouns
a small amount, some, generally conveys a positive idea
A little wine is meant to be good for you.
few + countable nouns
not many, may convey a negative idea
Few people believe her plans will work.
a few + countable nouns
a small number, some, generally conveys a positive idea
A few windows were smashed in the gas explosion.
FOR & SINCE
for – with a quantity of time
I've been learning English for 3 years.
since – from a named period in time
She's lived in London since January.
CAN & MAY
can – to be able to
She can swim for a mile without stopping.
may – to be allowed to
He may go to the party if he's finished his homework.
EACH & EVERY
each – refers to an individual
Each child gets a hot meal at school.
every – refers to an individual of a group, closer to all of
Every Monday I go to ballet lessons.
GOOD & WELL
good – adjective. (revise adjectives)
Today is a good day!
well – adverb. (revise adverbs)
She did well in the exam.
ELDER & OLDER
both mean more advanced in age
elder – used with people, may imply reverence
She's my elder sister.
older – used with objects and may also be used with people
The older piano sounded better.
THAN & THEN
than – introduces a comparison
She is taller than me.
then – shows a sequence of time
Beat the egg, then add the flour.
SINCERELY & FAITHFULLY
both are used to sign off formal or business letters
yours sincerely – used if the letter is addressed to a specific name
Dear Mr Jones, ..…. yours sincerely, Mike Smith
yours faithfully – used if the letter is not addressed to a specific name
Dear Sir/Madam, ……. yours faithfully, Mike Smith
---
PRACTICE EXERCISES
In the banner image at the top of the page, there are a number of homophones (words that sound the same but are spelled differently and have different meanings).
Look up any of words that you don't know and add them to your confusing words list.